Sunday, 30 July 2006
Vegetarian website GoVeg.com have a great Top 10 list online, giving good reasons why should keep pork off your fork...

GoVeg says pig products (ham, sausage and bacon strips) are loaded with artery-clogging cholesterol and saturated fat... they'll go straight to your hips and turn you porky.

Pigs are actually very smart animals... much smarter than dogs, and have excellent memories. After hearing that pigs have the mental capacities of a 3-year-old human, actor Cameron Diaz said
"[Eating bacon is] like eating my niece!"
.
Many pigs are also raised in cruel factory farms, in very crowded conditions, poor ventilation, and filth. To keep the sick and diseased pigs alive (and to promote faster growth), pigs are often fed antibiotics normally used to treat human illnesses. This has contributed to the development of antibiotic-resistant bacterial strains known as "superbacteria".
And stop using that cliche "Sweating like a Pig". Pigs don't actually sweat, which is why they bathe in water or mud to cool off. Pigs are normally very clean animals, and when outside the cramped environments of factory farms are careful not to soil the areas where they sleep or eat.
However, GoVeg do get it wrong with their #10 reason for not eating pig flesh... They advise "feasting on faux pork products instead". Now I've seen bacon-flavoured-chicken-slices in the supermarket, which always seemed silly to me... If you don't like the taste of bacon, why would you buy chicken that's been doctored to taste like it?!
Check out the full list at...

* GoVeg.com: Top 10 Reasons Not To Eat Pigs
See also...
* Dave Gee: Life from Right Field (post from October 6 2005) - Don't Eat Pigs 'cause they're made from Ham... Eat that Nasty Butcher Man!
* Toonhound: Oink! Magazine (the comic run by pigs ;-)

* Hat Tip: whoar.co.nz

Posted at 10:58 pm
Saturday, 29 July 2006
Hillin Cluck's had a bumpy few weeks, with the release of the report into Taito Phillip Field's dodgy immigration dealings, and the embarrassing international tour by the Crown Prince of Farce, Foreign Minister Winston Peters. (Of course, being a Labour MP, Taito's safe as houses - so to speak - PM Cluck would never let any of her MPs come under serious investigation).

Parliament's continued to be a battleground, with Opposition MPs rudely questioning the way the PM deals with wayward MPs, and for the cynical reaction to Finance Minister Michael Cullen's hints that Business and Personal Tax Cuts in 2008... just months out from the next election.

But help may be on the way for all New Zealanders... A group known as the 'Peace Government' are mobilising 200 expert Yogic Flyers here, to create an immediate "influence of coherence in the country", and make New Zealand "invincible".
President of the Peace Government of New Zealand, Dr. Graeme Lodge, says "Invincibility Schools" are being established around the country, where students will "practice Yogic Flying together to create coherent collective consciousness — the basis of an invincible nation".
Dr Lodge says, "These Yogic Flyers will neutralize overnight the dangerous buildup of negativity in national consciousness and promote positivity and harmony in the country and throughout the world".
The Invincible Nation Program is underway in New Zealand and 30 other countries, as part of Maharishi Mahesh Yogi's global peace program.
Supporters point to Holland as an indication of the success that can be achieved. 400 Yogic Flyers have been working there for the last three months... Since then, Holland has seen a booming economy, a drop in Governmental problems, growing harmony amongst its citizens, and greater respect from other countries.
The Program will be no doubt welcomed by those in the Middle East... apprently even a few hundred Yogic Flyers is sufficient in a country to "dramatically reduce negative trends, such as crime, violence, and conflict, and to promote positive social, economic, and political tendencies throughout the whole population".
Over 1,600 peace-creating yogic flying experts have also assembled in Washington and Iowa. Organisers there claim early success... after helping the US stock market record one of its largest one-day gains of the year (the only blue chip stock to drop was evil cigarette company
Phillip Morris
).
US organisers are aiming to get 3,500 Yogic Flyers. Once they're all busy flying we are told to expect greater success for the Government, for Peace and Prosperity to reign, and for Violence and Conflict to subside completely. Sounds good then!
* Scoop: Peace Govt Launches Program to Make NZ Invincible
* Newswire: Flyers Claim Early Success
* Victory Before War: Maharishi's Homeland Defense
* Stuff: Teflon Helen needn't fear

Posted at 10:26 pm
Wednesday, 26 July 2006
No, this is not a joke. The one and only David Hasselhoff (star of Knight Rider, Baywatch, and German/Swiss Pop Superstar) is to star in a musical based on his own life.

David Hasselhoff: The Musical will open in Melbourne, before moving to United States. He's no stranger to the theatre stage, having performed in the musical Jekyll & Hyde on Broadway, and as Billy Flynn in Chicago on the West End.

The Hoff says, "I was offered to go on tour in Australia starting last December with just a concert, and then they came up with the idea for (the musical)".

"It sounds like a bad joke, but it is really going to be a good show...totally campy".

The Hoff is currently a judge on NBC's
America's Got Talent
in the USA. He is preparing to release his autobiography "Making Waves" in September, and is still recording smash hit pop records in his spare time. His latest release
Jump in my Car
- where he parodies his performance as Michael Knight in Knight Rider — hit the dizzying heights of #50 on the Australian charts... (Watch the video below and you might see why it didn't go any further ;-)
A group of UK fans have launched a website,
Get Hasselhoff to Number 1,
aimed at getting David Hasselhoff's 1980 European hit single
Looking for Freedom
to the top of the UK music charts, through internet downloads. When 75,000 people have signed up, a "Hoff Alert" email will be sent out encouraging fans to buy the digital download, and hopefully send the Hoff to the top of the UK singles chart.
The Guinness Book of Records lists the Big D as the "Most Watched Star on Television" . Another site dedicated to him is
Drop It Like It's Hoff.
It features hundreds of Photoshopped images (like the ones shown here), featuring David Hasselhoff as the star of Movies, TV Shows, Sports, or pictured with Famous Celebrities.
* Stuff: Hasselhoff to star in musical based on his life
* Get Hasselhoff to Number 1
* Drop It Like It's Hoff
* Hat Tip - Generation XY

Posted at 11:18 pm
Tuesday, 25 July 2006
A belated post this one, but still worth putting up...

Dunedin recently held its annual Cadbury Chocolate Carnival... a week-long festival of activities and events around Chocolate.

One of the most popular annual events is the Baldwin Street Jaffa Race. Basically 20,000 Orange Chocolate Candies (called Jaffas) are released from the top of what's believed to be the Steepest Street in the World (Baldwin Street, North East Valley, Dunedin).

The jaffas are individually numbered (you buy a number just like a raffle ticket), and the first ones to make it down the hill and through the little chute at the bottom score a prize... :-)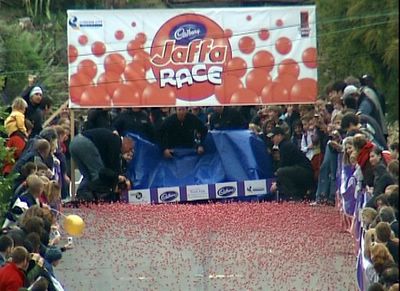 Posted at 10:35 pm
The first Jaffas took less than 10 seconds to roll through the chute at the bottom...
(Don't believe what they tell you on State TV - 2.5 seconds?! Obviously their expense accounts don't stretch to stopwatches ;-)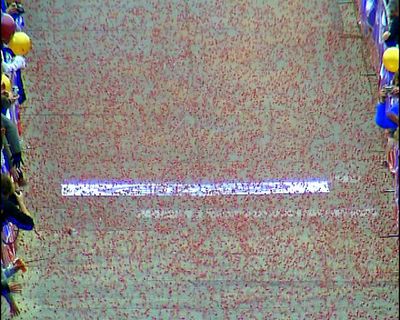 Posted at 10:34 pm

Posted at 10:33 pm
Local kids pick through the piles of Jaffas for their next meal... Mmmm, tasty... Chocolate mixed with tar, tyres, and street rubbish!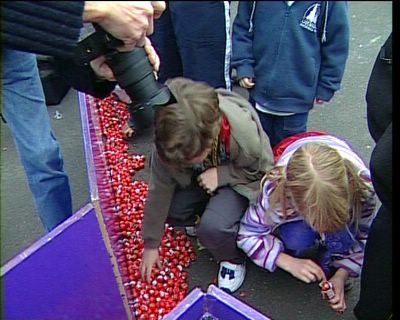 Posted at 10:30 pm
Sunday, 23 July 2006
Sky Television New Zealand are plannning to add a new specialist Documentary channel to their meagre lineup. The cleverly titled Documentary Channel will launch in November 2006, following next month's launch of MTV NZ and the localised relaunch of kids channel Nickelodeon.

Richard Driver (Visionary TV) will manage the new channel, which Sky say "will be available to all SKY digital subscribers, representing 43% (huh?! What are you people on?!!) of all television homes nationwide"... (presumably what they actually mean is "all SKY Digital subscribers who are paying us at least $46 a month - not those who are just paying us $18 a month to rent a box to get clearer pictures of the free-to-air broadcasters... albeit with lots of digital blotching because we compress them so much").

The New Zealand produced channel plans to offer "the very best of home-grown and international documentaries", which will be sourced "from the existing substantial library of New Zealand documentaries as well as established and respected international and festival sources".
The Documentary Channel
is aimed at "discerning SKY viewers" (which may exclude the 530,000+ viewers who tuned into State TV2's Nicky Watson special on the once-respected current affairs show 20/20, now reduced to - as Ric Salizzo put it - 'Freak of the week' shows ;-)
On a related note, Sky TV is promising more channels and less rain fade, when it moves to the new Optus D1 satellite in September. The new satellite will have "more power", and will deliver greater capacity... It could boost Sky's capacity by 25% to a total of 75 channels - depending on the level of image compression they go with.


* Sky TV: New Homegrown Documentary Channel to Launch on Sky
* NZ Herald: New Sky TV satellite to combat rain fade

Posted at 11:14 pm
Sky Television NZ are preparing to launch their localised version of music and youth channel MTV at 6pm on August the 18th. It's the second try for MTV down under, after State TV's experiment of operating the channel Free to Air ended after just a year (closing down the semi-regional Horizon Pacific Television in the process, and rushing MTV to air as competition for CanWest's new TV4).

Sky say MTV NZ will be "a non-stop 24 hour entertainment channel combining MTV favourites as well as home grown locally produced shows, music and talent". It'll be available on Sky Digital Channel 35, to all subscribers on the 'Start Up' package or better (ie. anyone paying over $46 a month).

The new MTV operation has already employed 22 New Zealand-based staff, and says it plans to expand on that next year. They've taken on Stefan Chapman from More FM to head up the Programming side of things, with Chris Keely being employed as MTV NZ's General Manager.
The new channel will have first run new episodes of
Punk'd
, as well as the
Laguna Beach
spin off,
The Hills.
A new locally produced show
Full Tank
is promised, which Sky say will "hit the roads in search of the exciting, the kinky, the glamorous and the downright weird". (Free to Air rival C4 will continue to play some MTV-produced shows under its current contract).
Meanwhile, C4 is heading for a revamp as it prepares for the international challenger. Industry rumours suggest the CanWest channel is considering extended its broadcast hours (it currently only runs 4pm to midnight during the week).
C4 is also dropping a number of its specialist music programmes, many of which have been around since its launch in 2003. Locally hosted shows
Amp'd, Intellectual Property, Flashbacks, Sound Lab, Holla Hour,
and
Freestyle
are all being dumped from the schedule.
* Scoop: For the first time in NZ's history MTV is YOURS
* Muzic.net.nz: C4 To Drop Specialist Shows
* Sky TV: MTV NZ

Posted at 10:45 pm
Thursday, 20 July 2006
The Diet Coke and Mentos Experiment (see post below for details) has become a worldwide phenomenom, generating over 5 million viewings since being posted online in late May.

But while there's plenty of copycat clips out there, you won't find the original on the likes of YouTube... Indie filmmakers Stephen Voltz and Fritz Grobe posted their video clip on Revver.com - a site which adds advertisements to the end of its web films.

Revver.com
relies on viewers to click on those ads, bringing in money which is split 50/50 with the creaators of the video clips... 5 million viewers translates to a healthy $28,000 for the Coke and Mentos scientists.
YouTube
claims it plays around 100 million videos a day... but creators don't receive any revenue for all those eyes. However they hold the lions share of the online video market, restricting the likes of Revver and
Eefoof.com
(another site offering to pay content creators) to niche players.
Another player that's been online for much longer is
AtomFilms
. It's been distributing short films since 1998, and claims to have paid out millions of dollars in royalties, with top filmmakers making making six figure sums. AtomFilms' revenue comes from banner ads, and from commercials inserted before film clips.
* InformationWeek: Internet Video
* Revver.com
* Eefoof.com
* AtomFilms

Posted at 8:49 pm
Monday, 17 July 2006
Firefox, the web browser promoted by the Mozilla Foundation, is being readied for its next big battle against Microsoft's Internet Explorer. Both are preparing for major new releases of their browsers later this year.

Microsoft were initially keen to rest on their laurels after "winning the browser wars", but a small but steady drop in the market share of Internet Explorer forced a rethink by the software giant. They're now preparing to release Internet Explorer 7 - a major upgrade of their aging browser, with a new look, tabbed browsing (popular with Firefox and Opera users), support for the likes of RSS (Really Simple Syndication), and better security and protection against 'phishing'.

Opera 9 is already out, while Mozilla's Firefox 2.0 is now in Beta, with new features like an integrated spell-checker, anti-phishing features, a new look/theme, better integrated searching, 'microsummaries' for bookmarked Web sites (updated headlines from sites), improved tabs, improved RSS integration, and the ability to recover from browser crashes.
With Microsoft putting together a better product, the challenge for Firefox to further grow its market share will be even tougher... Studies put its current reach at anything from 10% to as high as over 30% in parts of Europe.
* eWeek.com: Firefox 2.0 Beta 1 Is No Slam-Dunk
* Lifehacker.com: Firefox 2.0 Beta 1 Screenshots
* Computerworld: Firefox use growing around the world
* PCWorld.com: Master Firefox's Hidden Configuration Tools

Posted at 10:24 pm
Friday, 14 July 2006
Disney's megahit original tv movie High School Musical is finally making an impact in New Zealand.

The movie's been screening recently on the local version of the Disney Channel, and the single "Breaking Free" (taken from High Schoool Musical) has been sitting at #1 in C4 Music Television Select chart. Now that song is in the top 20 of the NZ singles charts, the High School Musical Soundtrack CD is in the Top 5 of the album charts, and the DVD's just been released here as well.
The modern day
Grease
is the highest rated movie of the year in the USA (on both cable and network) amongst kids and teens. The singles, album soundtrack, and DVD have set sales records.
Now
High School Musical
is up for six Emmy awards... Outstanding Children's Program, Best Director, Best Choreography, Best Casting, and two nominations for Outstanding Music and Lyrics ("Get'cha Head in the Game" and "Breaking Free").
Sequels are already in the planning stages... Producers are now working on the script and music for High School Musical 2: Sing It All Or Nothing! Zac Efron, Ashley Tisdale, and other main stars will all return for that tv movie (to begin shooting when Efron finishes doing
Hairspray
), along with Director and Choreographer Kenny Ortega (
Dirty Dancing, Newsies
).
Production is now delayed until early next year, and may not be released until 2008. A third film - High School Musical 3 - is also planned, along with a Broadway show.
* ABC 4: Utah-filmed "High School Musical" gets 6 Emmy nominations
* Zap2it.com: 'High School Musical' Star Lands 'Hairspray' Lead
* Los Angeles Times: It sells like teen spirit
* Deseret News: Disney high on 'Musical'

Posted at 6:14 pm

Zac Efron and co. show off their hoop skills on the court...

Posted at 6:12 pm

Television promo for the Encore DVD Edition of the hit Disney Channel TV movie High School Musical...

Posted at 6:10 pm
New Zealand's National Party has launched a new website, dedicated to keeping a tally of wasted spending by the Labour-led minority coalition Government currently running the country (with the help of NZ First and United Future).

PM Hillin Cluck, Finance Whiz-grandad Michael Cullen and co seem quick to point out how much extra money they've spent in recent years. However, they're slower to answer why despite pouring multi-billions more into Health, waiting lists keep growing... or why so many New Zealanders have suddenly become "sick" or "invalids".
Monitoring and pointing out Government wastage was previously the hobby of ACT Party leader Rodney Hide. However, with that party represented by just two MPs in the current parliament it seems National have decided to have a crack at it.
Former Act MP Ken Shirley highlighted the scandal at Te Wananga o Aotearoa before the last election, where millions of dollars was spent on "muppet" courses like twilight golf, hip-hop tours, Cuban literacy programmes, along with free laptops for students.
National Party leader Don Brash says he's collected many fresh examples of wasteful spending of taxpayer dollars, including the $490 million blowout in building four new prisons (doesn't anyone work to budgets these days?!), and $1 million for a pilot phoneline scheme in the Bay of Plenty where 12 staff answer an average of 3 calls each per day.
He also mentions the millions of dollars Labour takes out of the Government coffers for self promotion... not a new thing by any means, and something they and the Unions see nothing wrong with. ($440,000 to send out Hillin Cluck's "pledge card" and glossy brochure to every home in the country, and a healthy $15 million to encourage thousands more kiwis to sign up for welfare in the 'Working for Families' campaign).
* Stuff: Nats launch website exposing 'wasteful Govt spending'
* Scoop: Website to highlight Labour's wasteful spending
* David Farrar: Waste Watch
* Waste Watch website

Posted at 4:58 pm